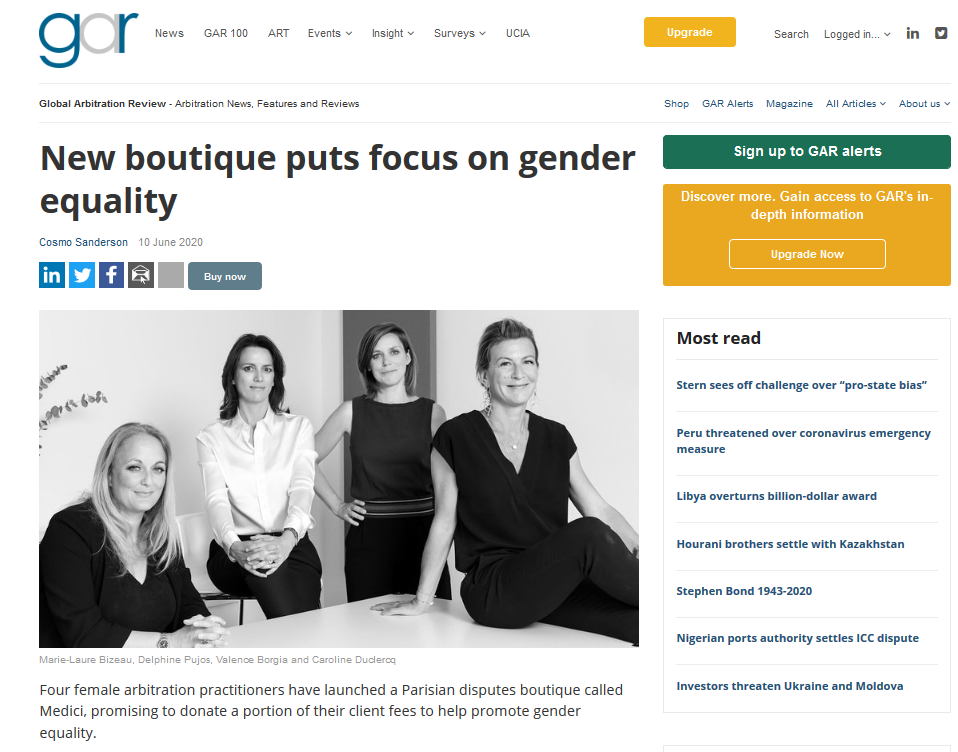 Four female arbitration practitioners have launched a Parisian disputes boutique called Medici, promising to donate a portion of their client fees to help promote gender equality.
Medici was launched late last month by a four-partner team featuring Marie-Laure Bizeau, who joins from Derains & Gharavi, Valence Borgia from K&L Gates, Caroline Duclercq from Parisian boutique Altana and Delphine Pujos, who previously worked at Linklaters.
The firm will act in commercial and investment disputes across a range of sectors while the partners will continue to accept arbitrator appointments.
The four partners have also launched a charitable fund to which they will donate 10% of their fees unless instructed otherwise by clients. The fund will promote gender equality and fight against all forms of violence and discrimination against women, both in France and internationally.
Bizeau tells GAR that the four founding partners have been "discussing the idea for years," having all had the opportunity to work with each other at various points in their careers. She says they had wanted to create a firm that would "resonate with who we are and what we stand for."
"I look forward to this adventure," she adds.
This is the second firm that Bizeau has helped launch, having been a founding member of Derains Gharavi & Lazareff – now Derains & Gharavi – when it opened in 2009. She was promoted to partner there in 2018.
Hamid Gharavi says that Bizeau is a "terrific lawyer" who "contributed immensely" to the firm. "We thank her and wish her well."
Like the other founders of Medici, Bizeau has a lot of experience in Africa-related disputes. She previously helped Lebanese investors win an ICSID award against the Democratic Republic of the Congo. The award withstood a subsequent annulment bid.
Other work includes acting in a €240 million UNCITRAL claim against Gabon; defending Qatar in a €100 million ICC claim over a waste facility; and representing a mining investor in the Paris Court of Appeal in its attempt to revive a billion-dollar claim against Uzbekistan.
Bizeau has been a visiting lecturer on international and domestic arbitration at the University of Montpellier since 2014.
Borgia began her career in 2007 at Eversheds in Paris. Two years later she moved to K&L Gates, where she was promoted to counsel in 2017.
She is qualified in Paris and New York and focuses on commercial disputes. Her experience includes acting in a €90 million ICC arbitration between a company and an African state relating to game farming. She acted in two other ICC cases concerning industrial equipment and an aircraft purchase contract.
In 2018, Borgia was part of a group of lawyers that submitted a report to the Paris Bar Council recommending the implementation of a proactive policy to combat harassment and sexual violence. She is a co-founder of the Women's Foundation.
Borgia says she is "thrilled that our project is becoming a reality."
Duclercq started out in 2002 at Cabinet Lazareff, founded by the late French arbitrator Serge Lazareff. Like Bizeau, she helped launch Derains Gharavi & Lazareff in 2009 before following Lazareff to his next firm, Lazareff Le Bars.
In 2012, Duclercq joined Parisian disputes boutique Altana. A spokesperson said the firm wishes her success in her new venture.
Duclercq has particular experience in arbitrations relating to engineering and construction contracts – particularly under FIDIC Rules – and acted in an ICC dispute between Lebanese and UAE companies over a pipeline project.
Along with Bizeau, she is listed as a future leader by Who's Who Legal.
Pujos's practice focuses more on litigation, but she has still acted in several commercial ICC disputes. These include two cases concerning African states relating to a mining contract termination and an agreement related to the supply of electricity.
Pujos began her career at Linklaters in 2004 and – aside from a three-year spell at Debevoise & Plimpton in Paris and New York – remained there until 2018, when she became a sole practitioner.
Linklaters arbitration co-head Roland Ziadé says he is pleased to see former colleague Pujos join forces with the other Medici co-founders, who he is also acquainted with.
"It's great to see such a new boutique firm burgeoning in Paris, showing both the dynamism of the French arbitration scene and the increasing prominence of talented women in the arbitration community."
"I wish all four of them and their new firm Medici the very best!"
https://globalarbitrationreview.com/article/1227802/new-boutique-puts-focus-on-gender-equality